NASA JPL Tour
Friday, March 28, 08:30 - 10:30
The JPL Tour bus pickup is at 300 E Green St, Pasadena, CA 91101.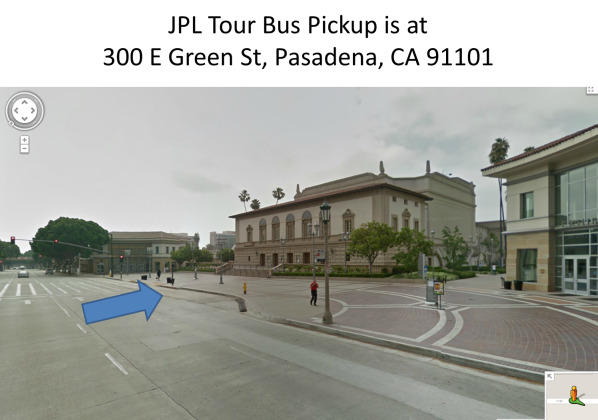 Deadline for sign-up: February 21, 2014.
The JPL tour is free of charge for groups indicating preference on the MicroRad registration page. Visitor parking is also available free of charge. All tours commonly include a multimedia presentation on JPL entitled "Journey to the Planets and Beyond," which provides an overview of the Laboratory's activities and accomplishments. Guests may also visit the von Karman Visitor Center, the Space Flight Operations Facility, the Spacecraft Assembly Facility, and MicroRad delegates will have a unique opportunity to view the SMAP (Soil Moisture Active Passive) radiometer mission in final stages of integration.
JPL requires that all U.S. citizens, 18 years of age or older, present official, government issued photo identification (driver's license or passport) before being allowed entry. All non-U.S. Citizens 18 years of age or older must present a passport or resident visa (green card) before being allowed entry. Individuals without proper identification will not be admitted to the Laboratory. Please be advised that tours involve a considerable amount of walking and stair climbing. Wheelchair access can be accommodated with advance notice, however wheelchairs cannot be provided. Cameras are permitted on the facility.
There will be a cutoff date to sign up for the tour, as JPL must perform a security check on all persons enjoining the tour. Check back here later for updates on transportation and to find the sign-up cutoff date.