Transportation
Access to Pasadena
Arriving at Los Angeles International Airport (LAX)
One of the best and least expensive ways to get from LAX to Pasadena is to take the FlyAway bus to Union Station, then take the Metro Gold Line to Del Mar station in Pasadena. The FlyAway is an air-conditioned coach with bathroom facilities that departs from LAX every 30 mins, and takes around 30-45 mins to reach Union Station, depending on traffic. Once there, walk down the stairs towards the station and look for the Metro Gold Line to Pasadena. The Del Mar station is a short walk from the conference hotels.
Information on how to pay for the FlyAway ($7 each way, payable by credit card only on arrival at Union Station) and how to take the Metro ($1.50 each way, payable before you ride) can be found on the FlyAway and Metro websites.
You can also take a shared van ride or shuttle service which are available on a walk-up or reservation basis and usually cost ranges from $25-$45, with discounts for groups. The vans are available outside of LAX baggage claim under the "shared ride van" sign.
Note that a taxi from LAX to the Pasadena area will cost over $80.
Arriving at Burbank Airport (BUR)
Conference participants may also want to consider booking travel through Burbank Airport, which includes domestic and limited international flights and is closer to Pasadena.
Shared shuttle service can be arranged on arrival, and typically costs $15-$25 each way. Public transit is also available, with details listed on the website above.
Transportation within Pasadena
Getting around Pasadena is easy by car, foot or public transportation. Cal Tech is accessible from all the hotels by either a short walk through city streets or by public transportation. Most hotels are on the ARTS bus route which stops at the campus. There is also ample parking at Cal Tech for those wishing to drive in.
ARTS Link: http://cityofpasadena.net/Transportation/Arts_Routes_and_Schedules/

View Full Size

It is hard to miss the Pasadena ARTS buses.

The Pasadena ARTS allows low-cost access throughout the city and to JPL (end of line S2). PCC is between Marengo and Los Robles on Green Street, convenient on foot to stops on several routes.
Getting to Caltech
The official address of Caltech is 1200 East California Boulevard Pasadena, CA 91125
The campus is between Del Mar Blvd and California Blvd to the north and south and Wilson Ave and Hill Ave to the east and west.
By Foot:
Pasadena is very accessible by foot, particuarly from the hotels near Old Town Pasadena and those along Colorado Blvd. Caltech can be reached by foot in less than 30 minutes from most of the hotels in Pasadena.
By Car:
Those with cars may wish to drive to Caltech. Parking is available for a daily fee. Parking at Caltech is described in more detail on the venue page.
By Bus:
The Pasadena ARTS allows low-cost access throughout the city and to JPL (end of line 52). Although, the bus to JPL only runs once in the morning and once in the afternoon.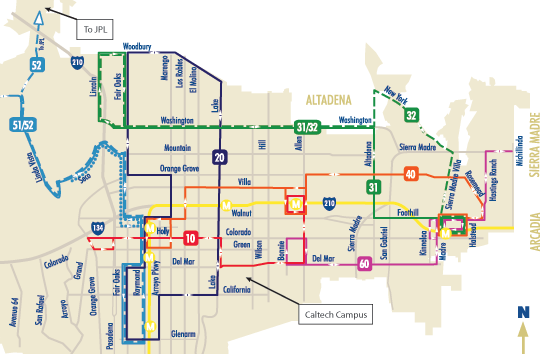 The 10 bus accesses Caltech via Del Mar Blvd.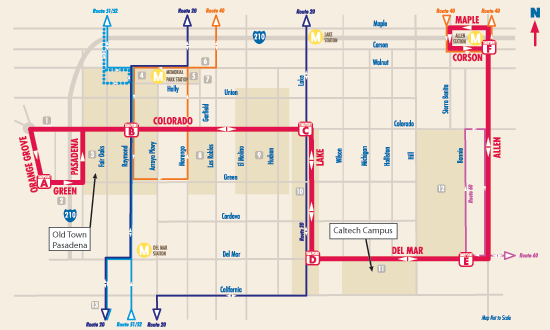 To arrive at the meeting location by 8am from the hotels near Old Town, one will need to catch the 7:15 or 7:40 am bus.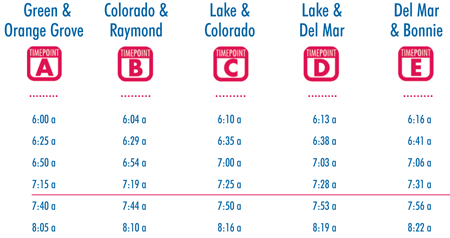 There are several buses that will return you to the Old Town area. Note, the last bus leaving Caltech departs at 7:50 pm.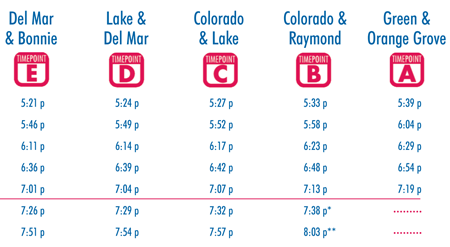 Transportation within Greater Los Angeles
Los Angeles is known as a city based on car culture, and indeed for the most flexible access to much of the city, a car is needed. However, the recent addition of a Metro Rail system has opened up possibilities to explore the city without the traffic and parking issues that can occur. The Metro Gold Line extends from Los Angeles to Pasadena, and once on the Gold Line, visitors can gain access to downtown Los Angeles and most other areas in the city through the public transportation network.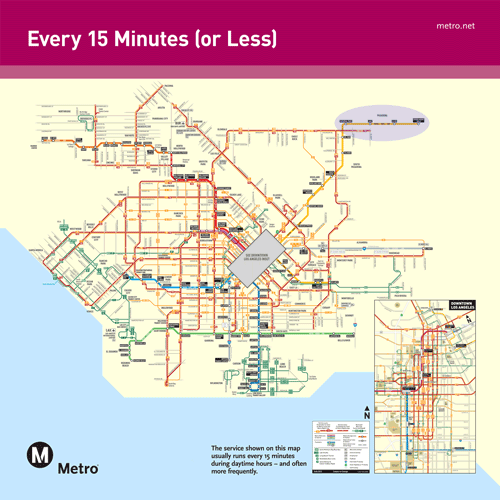 View Full Size