Accommodation
SLT 2014 will take place in South Lake Tahoe, a small town located on the southern shore of Lake Tahoe, right on the California-Nevada state line and easily accessible by plane or car. The workshop venue will be Harvey's Lake Tahoe Casino/Hotel, located within walking distance from the town center and the Heavenly ski resort.
Hotel Booking
SLT 2014 has partnered with the Harveys' Lake Tahoe Hotel to offer attendees special discount rates (plus taxes) as below. This rate includes internet access, a value of $10.95. Reservations must be made by November 1, 2014 to guarantee these room rates.
UPDATE: The special discounted room rate at Harvey's is completely sold out.
To make reservation visit:
http://www.totalrewards.com/hotel-reservations?propCode=HLT&groupCode=S12IEE4
or call central reservation line at 855-455-4770. Group code: S12IEE4
Room Type
12/06/14 Saturday
12/07/14 Sunday
12/08/14 Monday
12/09/14 Tuesday
12/10/14 Wednesday
Lake Tower
Luxury King
$159
$89
$89
$89
$89
Lake Tower
Luxury Two Queens
$159
$89
$89
$89
$89
Lake Tower
Premium King
$159
$89
$89
$89
$89
Lake Tower
Premium Two Queens
$159
$89
$89
$89
$89
NS 2 QN Accessible
Roll In
$159
$89
$89
$89
$89
Depending on your region, you may be eligible for a seasonal special discount offered by the hotel. We don't have control over it since it happens after our negotiation. Please feel free to check rates you get at the hotel website to get the best rate possible: http://www.harveystahoe.com/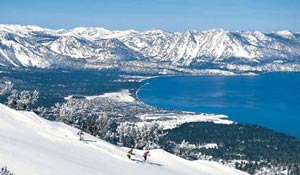 Climate:
The average temperature in South Lake Tahoe in December is between 17 F and 44, with an average precipitation of 2.9 inches.
Social Activities
The SLT-2014 meeting will include both a welcome reception as well as banquet as part of the program and registration fee. Such events are important to encourage discussion and informal exchanges.
Local amenities:
There are many possible activities for accompanying persons and for those who have extra time before or after the meeting. Some examples include: skiing, golfing, Lake Tahoe cruise and boat tours/activities, gaming, ice-skating, shopping, biking, hiking, fishing, horseback riding, balloon rides, helicopter tours, spa services, and more. Concerts and shows are available at the venue itself (Harvey's Lake Tahoe Casino/Hotel). Shopping locations are also close by for those interested in a souvenir of historic Lake Tahoe. Several area photos and a sample activity map are provided below.
Heavenly Mountain Resort is a ski resort located on the California-Nevada border in South Lake Tahoe. It has 97 runs and 30 lifts that are spread between California and Nevada and four base facilities. The resort has 4,800 acres (1,900 ha) within its permit area, with approximately 33% currently developed for skiing, boasting the highest elevation of the Lake Tahoe area resorts with a peak elevation of 10,067 ft (3,068 m), and a peak lift-service elevation of 10,040 ft (3,060 m).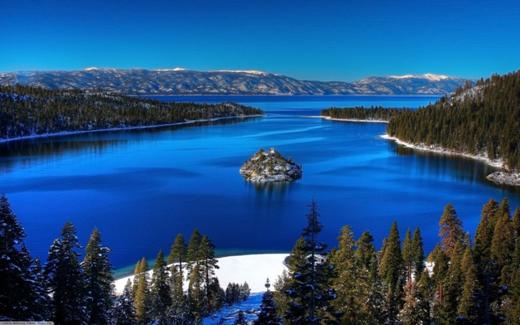 Emerald Bay at Lake Tahoe
Vikingsholm is located at the head of Emerald Bay in Lake Tahoe, California. This magnificent "castle" is a unique blend of Nature's spectacular beauty and man's architectural ingenuity. Built as a summer home in 1929, this grand castle on Emerald Bay is considered one of the finest examples of Scandinavian architecture in the Western Hemisphere.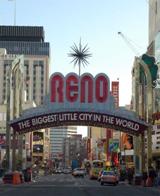 Reno is the most popular Nevada city outside of the Las Vegas metropolitan area. Reno sits in a high desert valley at the foot of the Sierra Nevada Mountains. Known as "The Biggest Little City in the World", Reno is famous for its casinos and is the birthplace of the gaming corporation Harrah's Entertainment.
Below is a map of Lake Tahoe and the surrounding towns and roadways. Note that the lake sits between two states, Nevada and California. There are a range of hotels available; in general, hotels on the Nevada side have casinos.