APS/URSI 2017 Volunteer Signup
The login site is closed. Updates are not allowed
You may still log in to check your schedule.
Join the APS/URSI 2017 team as a Student Volunteer!
Student Volunteers play an essential role in the success of the symposium. Volunteers work along side the symposium committee and management team to assist delegates and to ensure the symposium runs smoothly. Volunteers will be selected on a first-come, first-served basis. Please select the number of shifts to fulfill the amount of time required.
Jobs include:
Monitoring lecture sessions
Monitoring poster sessions
Monitoring short courses
Changing/Updating signage
Completing Session Forms
Collecting tickets and directing traffic to social events
Assembling attendee kits
Volunteers will need to:
be professional at all times;
bring a pen to each shift;
volunteer for 20 hours;
wear volunteer shirts during shifts (these will be provided to you onsite);
have the desire to assist and network with students and professionals from all over the world.
In return for their valuable service, volunteers receive:
Students must pay conference registration first and will receive a refund after the conference, if all responsibilities have been completed.
Hotel Meal Voucher of $15 USD per day worked
Valuable experience for your resume
Make your own schedule!
After creating your account below, you will be directed to the sign up schedule. Shifts are listed by day and time. Once a shift is taken, it will be noted as "time slot full."
Volunteers will be required to establish a 20-hour schedule of volunteer time. Create your schedule to include your areas of interest, but don't delay, as it is "first- come, first-served."
Sample Schedules: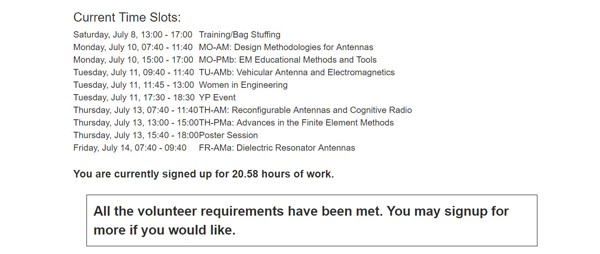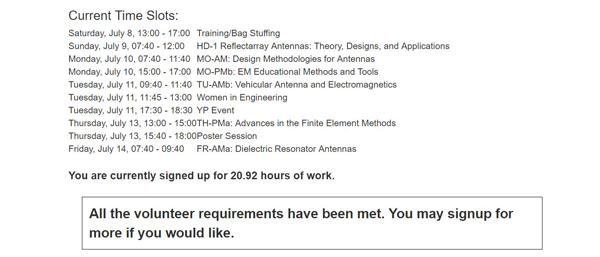 And if you are not signed up for the required amount of time, you will see this notation:

Login
To make changes to your existing account, login using your volunteer ID number and the email address you used to sign up (case sensitive).